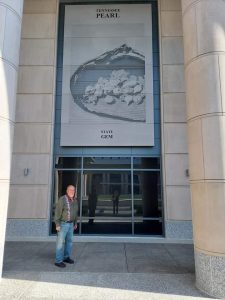 The pearl, taken from mussels in the fresh water rivers of the state, is the Official State Gem, according to Public Chapter 192, 91st General Assembly (1979).
During the years between 1882 and 1914, beautiful pearls were taken from many of the state's streams from the Pigeon and Holston in the east to the Forked Deer and Obion in the west. The Caney Fork in Middle Tennessee was noted for its pearl-bearing mussels, and "pearling" was a favorite sport for young people on Sunday afternoons at the turn of the century.
Tennessee River pearls are of all colors and they are "natural" as the mussel made them – all pearl, all the way through. They have been found in various shapes – spherical, pear-shaped and baroque, or irregular.
After World War I, dams were built on many of the rivers, and the mussels lost their swift and shallow shoals. Also, the waters became more toxic and pearling became unprofitable. Today, pearling exists as a byproduct of shell harvests which supply the cultivated pearl industry of Japan.
Tennessee River pearls are among the most beautiful and durable in the world. At Camden, in West Tennessee, these river pearls are collected and crafted into rings, cuff links, stick pins and other jewelry.